Listen
Violin Excerpts
Violin Scale
Viola Excerpts
Mozart Sinfonia Concertante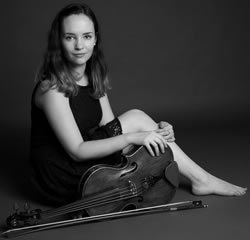 Shannon Elliott, violist
Excerpts from a Recital at the Manhattan School
Bach Sonata No. 1 in G Minor - Allegro
Brahms Sonata No. 1 in F Minor - Vivace
Bloch Suite for Viola and Piano - Allegro ironic
Cadenza for Viola solo by Krzysztof Penderecki, performed by Sarah Wilkinson on the Avanti viola
Master's recital by Shannon Elliott at New York University
Watch Ann Guinee play "La Companella"by Paganini as part of her junior recital at the Cleveland Institute of Music.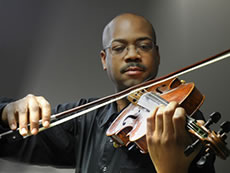 Clyde McKaney began studying violin while a student in the Jackson Public School system. In 1981, while a high school student, he joined the Jackson Symphony Orchestra. He went on to study music at the University of Michigan, Michigan State University and, as a participant in the Alfred Chamber Music Institute, he studied with Joseph Fuchs of the Juilliard School. Clyde lives in Jackson where he is a JSOCMS faculty member, principal violist in the JSO, and conducts the JSO Community String Ensemble
Suite Hebraic for Viola and Orchestra, Clyde McKaney, viola
Cello Excerpts
Saint-Saëns Cello Concerto
Caitlin Fahey Crow on La Sirena plays the opening cello solo in Rossini's Overture to William Tell.
Adrienne Woods Buffing the Gut with her Personal "Dragon."
Adrienne Woods plays the "Dragon" cello in recital with her pianist father.
Based in Austin, the chamber music group Revel is redefining classical music for the masses. Informal performances in non-traditional venues are their specialty, all delivered without the pomp or pretension that scare so many of us away from classical music. Instead of sitting quietly and listening, Revel wants the audience to interact with the performance; to talk with the musicians and ask questions about the piece.

The classical band, Revel, in a performance of Piazzolla's "Otoño Porteño" with Joel Becktell on the Crane cello.
Mo Thi Tran solos on "The Owl" cello playing "Return to the Motherland" by Nguyen Van Thuong.
Phil Wilkinson and Hanna Kornienko play Chopin's Polonaise Brillante on the Chladni cello.