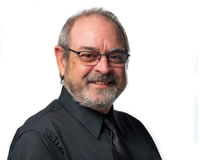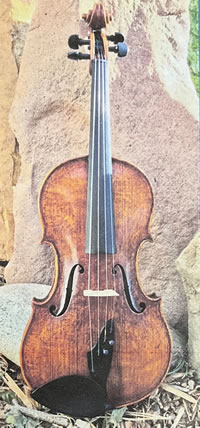 Dear Anne,
I don't think I ever gave you a proper thank you for my violin. With my viola playing concerts mostly over with until next season I've been able to spend more time with Einstein. Each successive practice session is more enjoyable as my playing improves, and, sometimes, when playing, I just have to stop and look at this instrument in my hands and marvel at the beautiful tone it enables me to produce.
So...THANK YOU, ANNE!... for your skill, artistry, and ingenuity in creating this wonderful instrument. Your instruments allow present and future musicians to create beautiful music that makes the world a better place for us all. You are a national treasure!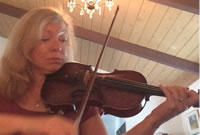 I think most violin players, from beginners to pros, are on a continual search for "that sound." The sound that makes them spend countless hours practicing. The sound that seemed like a celestial sail upon which a melody could travel. The sound whose elusive nature prompts the eternally frustrating question—"what part is the player and what part is the bow and violin?"
While most everyone will tell you technique and skill matters more, the combination of craftsmanship and artistry that goes into a fine instrument produces some very audible differences in sound and also informs and facilitates technique and musical decisions. That feedback loop can be anywhere on a spectrum between vicious and virtuous. And as players grow in skill, the relationship between player and instrument seems to acquire a greater immediacy.
Choosing an instrument can be simple or complicated. I've read about people—not beginners—who rely on the judgment of their teachers or local luthier or online sellers who ship them a few instruments for trial. One woman didn't care to shop and simply called a well known luthier in Cremona and asked her to send a good violin. They chatted for a while and a very expensive violin landed in the hands of a happy player.
My search for sound led me to Anne Cole. I asked in an online forum "if you could play any violin where sound was the only consideration, which would it be?" This forum has about 6000 active members so the number of answers was considerable. It was the first time I heard of Anne Cole.
The idea of a violin made with my physical reality—hand proportions, fingertip width, arm length—was of obvious interest as was the fact that her instruments are extraordinarily beautiful. And rather than just copying the old Italian masters, she is working in the manner of the old Italian masters—experimenting, learning from experience—but with better tools and more access to information.
But sound is not theoretical and not something I can access by reading. So I planned a road trip to see her with stops along the way to trial violins and develop an idea of what was out there—not just in my home town but in other places featuring very different inventories. I was looking for a sound that would make me a happier and better player than did my existing very nice mid-century German instrument.
Anne and I talked a lot about violins and music and she watched me play-having a long career as a teacher as well as a maker gave her an interesting perspective on the "is it me or the instrument" issue. Surprisingly (to me) she thought I'd play better with a smaller instrument—technically a 7/8. I'm small but not tiny. I had noticed that I tended find smaller instruments (there's a range in 4/4s) easier to play. I had also on a few occasions trialed instruments that were technically 7/8 but had formed an opinion that they achieve "sweet" more readily than "rich and vibrant." In truth I wanted both. I wanted an instrument that was "spilling over with sound" as someone else had described Anne's instruments.
It should not have surprised me that Anne was able to bring the same magic to her 7/8 instruments that I experienced in her 4/4 instruments and read about with reference to her violas and cellos. I am currently playing Sappho, a beauty inspired by a Nicolo Amati original, while waiting for Luna to be made from the same tree. Her voice is varied and beautiful and particularly rewarding of a light left hand. A truly wonderful sound, worthy of the extended search. To hear her, you wouldn't guess she is a 7/8.
And NOW I better get back to practicing!